Offering The Best Franchise in Pharmaceuticals | Biopolis Lifesciences
Biopolis Lifesciences is a well-reputed name in the pharmaceutical industry. We are known for manufacturing products catering to health. We have been certified under H.A.C.C.P. Food Safety Certified, 100% HALAL Food Certified, ISO 9001:2015, and WHO GMP Certified-Good Manufacturing Practice. All our products are manufactured with high-grade ingredients, keeping all safety and quality checks in mind. We have different departments for research, manufacturing, supplying, and marketing our products, which makes the whole process smooth. So, if you are looking for a franchise in pharmaceuticals, then Biopolis Lifesciences is the right choice for you.
General Range PCD Company
There is a pool of pharmaceutical companies on the market, but what makes us stand out is that we are a general range PCD company. We use the best-quality materials that are manufactured in state-of-the-art facilities. All our products are made with high-grade ingredients, and everything is done keeping in mind all the ethical regulations. When it comes to choosing the right PCD company to start your business, Biopolis Lifesciences is the right choice to do so. What we are today is just the result of the efforts of our whole team, who are giving their best.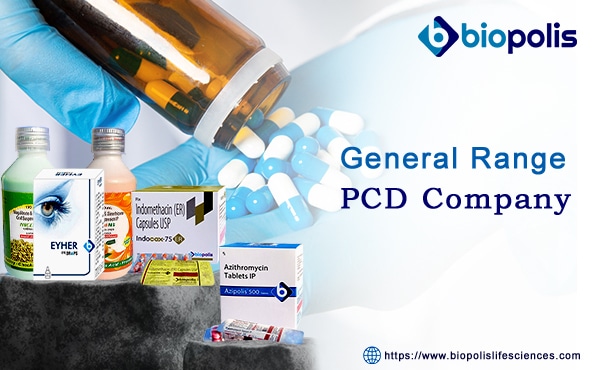 Best Packing PCD Pharma | Product Range
We have more than 200+ products in our range that cater to a wide variety of ailments. All the ingredients are sourced ethically and used in such a manner that they provide instant relief to their users. We have varied categories, and they have a range of products in them that actually treat the problem to the core. If you are new to this field, then our team of professionals will guide you in the right direction to achieve great heights. No compromise is ever made on the basis of quality. Some of the products that make us the best packing PCD pharma are listed below
ANALGESIC/ANTIPYREIC/ANTI INFLAMMATION
Dawnpain -MR, Dawnpain -P, Dawnpain -SP
Dolopolis, Indocox -75 ER, Kicold, Nimipra-425
ENDOCRINOLOGY RANGE
Oenjob– Plus, Oenjob -P, Oenjob-PSR, Truthyro – 75, Truthyro – 25, Truthyro -100, Truthyro -50, Truthyro -75, Truthyro -12.5
ANTIFUNGAL
Idfulwin 500, ItrapolisTM -100, ItrapolisTM -200
EYE AND NASAL DROPS
Eyher Tears, Nazoflush, Nazoflush – A
AYURVEDIC
3 Fruitz, Blooddetox, Dawnpain Oil, Eenots, Eyher, Fast&Furious
ORTHO
Becopolis, Bitcoin FORTE, Bitcoin Plus, Bonfirst -CT, Bonfirst– HD, Bonfirst -D, Cypolong, Dawnpain-AQ, Dawnpain-P, Dawnpain-SP, E-Good, Eatston TM
Why To Choose Biopolis Lifesciences?
Some of the reasons for choosing a franchise in pharmaceuticals are:
We have a research and development team that studies the market and comes up with products that are actually needed in the healthcare industry.
We have our own manufacturing and storage units, which is why there is a great delay in the delivery of products from our end.
We use high-grade ingredients in all our products, and this is why our products are quite effective and provide relief to users.
We use the latest set of tools and machinery, and all our units are cleaned and sanitized on a regular basis.
The packaging of all our products is done in a very interesting manner, and our team ensures that there is no spillage or waste from our end.
We keep on adding new products to our range, which is done precisely after studying what is in demand in the market at a specific point in time.
Reliable and Best Packing PCD Company
Whenever you are looking for a company to start your pharmaceutical business, there is no better option than Biopolis Lifesciences. We ensure that all our customers are satisfied with our products, as this is important for a company to sustain itself in the industry for a long time. All the products that we manufacture conform to quality and health standards. We are operating throughout PAN India and wish that our products reach the inaccessible parts of the country as well. We thrive on using the best materials and ensure that there will never be a compromise in the quality of the materials that we use. For more information, get in touch with our team of professionals.
Address
Plot No. 353, Industrial Area Phase 1, Panchkula, Haryana 134113