PCD Pharma Franchise Monopoly Basis | Biopolis Lifesciences
The pharmaceutical sector in India is evolving at a very fast pace and plays an important role in the growth of the country. As healthcare facilities in India are developing at a good speed, the demand for better and more effective healthcare products is also increasing. This directly implies that there is a need for the manufacturing of healthcare products. At Biopolis Lifesciences, we offer PCD pharma franchise monopoly basis to all those who are looking to start their pharmaceutical business venture. Get in touch with our team for more information.
The Best Monopoly Pharma Franchise
A monopoly pharma franchise company bridges the gap between manufacturers of pharmaceutical products and those who are in need of them. At Biopolis Lifesciences, we help individuals start their own businesses. With so many pharmaceutical companies already in the market, starting your own from scratch requires a lot of effort and time. This is why we got the concept of PCD pharma franchise monopoly basis. Our team ensures to deliver the best products to all those who are looking for the right partners to join hands with.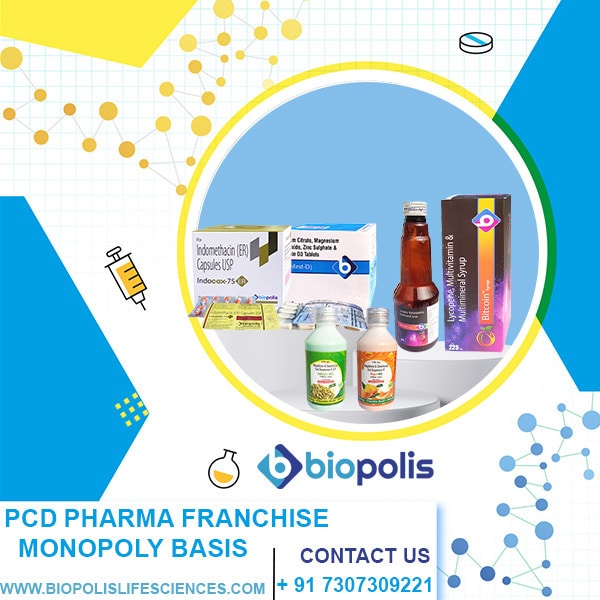 Why Choose Us For PCD Pharma Franchise Monopoly Basis?
We have our own manufacturing and storage units, which ensures that there is never a delay in delivery from our end.
All our products are manufactured with the best ingredients and using the latest tools and equipment available on the market.
Our team will stay by your side and assist you in establishing your base. Thus, we offer marketing collateral as well to create a brand image.
Our production units comply with all safety regulations, and our products go through regular testing so that the best products are delivered to all.
The packaging of all our products is done in a very attractive manner. We ensure that there is no spillage or damage done during transit.
We have a wide range of pharmaceutical products that cater to different types of ailments and target the affected area.
When it comes to the quality of our products, we never compromise and deliver products with high-grade ingredients at affordable prices.
Innovative Product Range | Monopoly Pharma Franchise
We at Biopolis Lifesciences, have our own research and development team that keeps on studying the pharmaceutical market and comes up with better and more innovative products. We have a varied range of products curated in such a manner that almost all illnesses are cured. Whatever we do, we never forget about our ethical values. No matter what the size of production, we have large units and a supportive team to make sure that the order dispatches and arrives on time. When you select us, you are not just selecting the right pharmaceutical products; you are choosing a company that has a vision for the future and wants to expand their range of products. We are currently operating throughout PAN India. Our experts leave no stone unturned in coming up with the right products for all our patients.
Product Range At Biopolis Lifesciences
The product categories that we deal in are Analgesic/Antipyretic/Anti-Inflammation, Ayurvedic, Antiallergic, Antibiotics, Antifungal, Dentist, Endocrinology Range, Ent and Surgeon, Eye and Nasal Drops, Gastro Range, Psychiatry, Steroids, Vitamins and Minerals, Injectables, Cardio Diabetic, General Physicians, Gynaecological, Injectables/Infusions, Ortho, and more. Some of our top-selling products are Amintik, Amintik +, Becopolis, Becopolis Drops, Becopolis, Becopolis, Bitboss – C, Bitboss, Bitcoin Plus, Bitcoin Syrup, Bonfirst, Idfulwin 500, Itrapolis -100, Itrapolis-200, Kicold, Kicold Kid Jelly, Kicold Kid Syp, 3 Fruitz, Bacstatik OZ, Bonfirst -CT, Daily-40, Daily -D, Daily SR and more.
Leading Monopoly Pharma Franchise
The best part about joining our PCD pharma franchise monopoly basis is that the initial investment is low while the returns on investment are much higher. Our team will support and guide you throughout the whole process and make sure that you are able to step into the world of pharmaceuticals with full confidence. We give our franchise partners exclusive rights so that they can operate with full force. We ensure that our pharmaceutical products are delivered to remote areas as well. As this is an ever-growing segment, we are working hard to manufacture better-quality products.
Due to the ongoing advancements in technology, we try to use it in our production and storage units. As we have our own units, we can store bulk orders and dispatch them when needed. Proper safety regulations are kept in mind when it comes to manufacturing and storing our products. When you work with us, you will learn a lot about the pharmaceutical business, and our business practices will help you flourish in this industry for sure. We hold all the necessary safety certifications required to run a business. Our team takes care of all the precautions and delivers effective products.
When it comes to choosing the best monopoly pharma franchise for yourself, get in touch with Biopolis Lifesciences. Our team will be ready to assist you throughout your journey and will come up with ideas and strategies to make your company more comfortable. As we provide marketing collateral, it becomes easier for our franchise partners to stabilize an image for themselves in the industry. Our team is working tirelessly to create an everlasting impact on the pharmaceutical industry.
Address
Plot No. 353, Industrial Area Phase 1, Panchkula, Haryana 134113